OCM-C  C-band Optical Channel Monitor: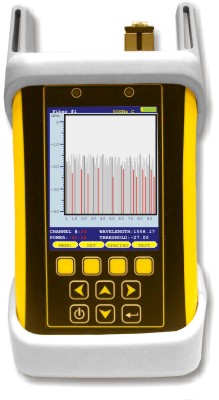 OWL's C-band optical channel monitor (OCM) provides users with quick and accurate optical channel measurement for DWDM networks using the wavelengths specified in the ITU G.694.1.
Features include: user-definable optical power threshold, selectable channel spacing (50 & 100 GHz), and data storage.
Data can be viewed either as a bar graph or in tabular format, and the LCD display will automatically rotate based on the orientation of the OCM unit. Viewing in landscape mode allows for more viewing detail.
Key Specifications:
Operating Frequencies                 191.6 to 195.9 THz (C-band)
Total Channels (100GHz)             44
Total Channels (50GHz)               88
Nominal Channel Spacing           50/100 GHz
Channel Input Power                    -10 to -40 dBm
Total Input Power                           +7 dBm
Absolute Power Accuracy             -0.4 to 0.4 dB
Relative Power  Accuracy              0.2 dB
Total Power Accuracy                     -0.4 to 0.4 dB
Display Type                                       Backlit graphical LCD
Auto-shutdown                                  Yes
Battery Type                                        Lithium Polymer
Battery Life                                          up to 20 hours
Operating Temperature                  -5 to 70° C
Operating Humidity                          5 to 85%
Storage Temperature                      -40 to 85° C
Storage Humidity                              5 to 95%
Dimensions                                          2.87" x 4.42" x 1.25"
Weight                                                   10 ounces (284 g)
Display automatically flips between portrait and landscape mode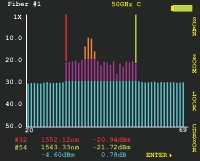 Key Benefits
C-band optical channel monitoring of ITU DWDM grid wavelengths with 50GHz and 100GHz spacing

2.8" color LCD display

SC connector port

USB interface for downloading stored readings

Re-chargeable Lithium Polymer battery allows for up to 20 hours of normal usage